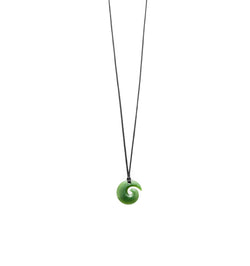 Authentic Ngāi Tahu Pounamu
Pēpi Koru
NTP026
This Pēpi Koru is from a range of gorgeous pieces purpose-made for baby that can be kept as keepsake for years to come. The Koru literally means 'curl' these taonga depict an unfurling fern. In Māori culture, the young shoots of the fern symbolise new life, growth and rejuvenation.
DISPLAY IMAGE ONLY
Pounamu comes in a myriad of different colours, textures and consistencies. The examples below are an indication of the wide range of colour variation you can expect when purchasing this product. 
Please note that the image above is a display image only 
Caring for your Pounamu
Your Pounamu is incredibly strong and durable, however it is also very dense and does not absorb shock very well. Due to the intricate nature of some of the carvings, dropping or hitting your Pounamu against a hard surface could cause hairlines cracks or breaks.
Pounamu polishes and shines itself by absorbing the natural oils from your skin over time, enhancing and brightening the lustre. You can clean your Pounamu with a gentle soap if needed, but strong chemical cleaners should always be avoided.
Why your stone is your stone
All Ngāi Tahu Pounamu pieces are individually hand-carved from genuine New Zealand greenstone. While the size, shape and design of your piece will closely match the photographed item, bear in mind that each raw-stone has unique characteristics formed over millions of years, giving every carved piece it's own identity, colour and character.
The more you wear your Pounamu the more beautiful, unique and special it will become. Pounamu absorbs the natural oils from your skin over time which, when combined with constant skin contact, delicately polishes and enhances the lustre. This is what makes your stone uniquely yours, and why it becomes your taonga (treasured gift). 
In the unlikely event that you're unhappy with the unique piece you receive, we are happy to exchange it or provide a 100% refund. Simply contact us to discuss further.